The Engine Valve Analysis Is Losing Weight Due To Corrosion In The Engine Unit Mitsubishi Triton 2.5 cc
Corrosion Valve Intake
Keywords:
Valve corrosion
Abstract
Valve is one of the components in the Mitsubishi Triton engine which has a very vital role, the valve functions to open and close the combustion chamber and to disconnect and connect the combustion chamber with outside air when needed. Valve damage has a significant impact on the power generated by the engine. This study aims to find out the cause of weight loss due to corrosion in the Mitsubishi Triton 2.5 CC engine unit. This study used four valves and measured the weight of the valve to determine the standard limit for weight reduction due to the corrosion rate of 48.7 gr of valve standard value on the entire valve weight using digital scales carried out at the PT Alat Bumi Permai Balikpapan Workshop. Based on the results of research and analysis carried out, there is a cause in this case where dust particles that cannot be filtered properly by the air filter so that the dust accumulates in the combustion chamber attached to the valve, incomplete combustion in the combustion room makes a pile of carbon crust. The higher the KM of the component, the higher the corrosion rate and weight loss of the valve. Judging from the standard weight of the new valve 48.7 gr, the standard diameter on the valve rod is 6.09 mm. The last unit kilometer is 92, 145 KM. 48.7 gr new valve standard value with an average valve corrosion rate of 0.9 gr with a unit kilometer of 92,145 KM. 48.7 gr – 47.8 gr = 0.9 w/ 2,5 gram for weight loss. Where the corrosion rate is 0.9 gr: 48.9 gr the valve is corroded before cleaning = 0.018404908 gr x kilometers unit 92,145 KM = 0,92792446687 gram/second resulting from the corrosion rate at kilometers 92,145 KM.
References
M. R. W. Khasibudin, D. N. Zulfika, and R. Kusbiantoro, "Analisis Laju Korosi Baja Karbon ST 60 Terhadap Larutan Hidrogen Klorida (HCl) Dan Larutan Natrium Hidroksida (NaOh))," majamecha, vol. 1, no. 2, pp. 88-102, Desember 2019.
M.T. Santoso, "Laju Korosi Nikel Dalam Media Asam Klorida," Repository Universita Sanata Dharma Yogyakarta, pp. 25-38, 2019.
Iqbal Andika, "Analisis Laju Korosi Bottom Plate Marine Stainless Steel 304 pada Tug Boat Amideus''. Vol 110-134.
M.G. Fontana, Corrosion Engineering, Edisi Ketiga. Singapura: McGnaw- Hill Book Company, 1987.
T. Karyono, Budinto, and R. G. Pamungkas, "Analisis Teknik Pencegahan Korosi Pada Lambung Kapal dengan Variasi Sistem Pencegahan ICCP Dibandingkan dengan SACP," J. Pendidik. Prof., vol. 6, no. 1, pp. 7–17, 2017.
Riadi, Muchlisin, dkk . Korosi (2019). Korosi/pengkaratan dalam media (reaksi, jenis, penyebab dan perlindungan).
Nurten Vardar, Ahmet Ekerim, "Investigation of Exhaust ValveFailure in Heavy Duty Diesel Engine". Guzi University Journal of Science GUJ Sci. 23 (4): 493499.2010.
V. Ashworth, 2010, Principles of Cathodic Protection, the Third Edition article 10.1 volume 2, pp 10:3–10:28, Elsevier B.V.
I. K. Suriadi and I. Suarsana, "Prediksi Laju Korosi Dengan Perubahan Besar Derajat Deformasi Plastis Dan Media Pengkorosi Pada Material Baja Karbon," J. Ilm. Tek. Mesin CAKRAM, vol. 1, no. 1, pp. 1–8, 2007.
Marianto Posted on April 28, 2020. Penyebab Kerusakan Katup (Valve) Serta Cara Mengatasinya.
Results for "Yosrihard Basongan1), Laode Musa2). Analisis kegagalan valve intake dan exhaust unit Misubishi 13C79. Prosiding Seminar Nasional Penelitian & Pengabdian Kepada Masyarakat 2019.
Results for "Analisis Laju Korosi pada Pelat Baja Karbon ASTM A36 dan AISI 1020 dengan metode kehilangan Berat"
Lembaga keterampilan profesi indonesiahttp://lkplogin.org/2021/01/01.
Poland Yato YT-55291 Yato 7 Drawers Roller Cabinet 129pcs.
Group 11D engine overhaul PT Kramayuda Tiga Berlian Motor.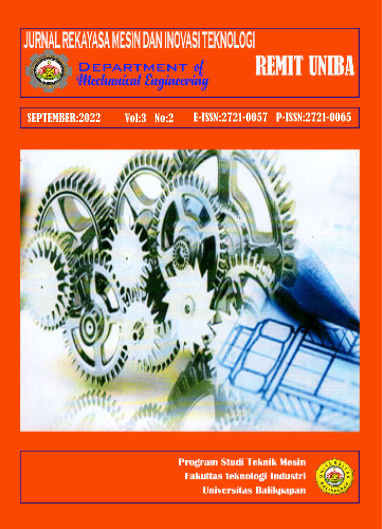 Downloads
How to Cite
Alrizki, R., Manaseh, & Kuswandi Arifin. (2022). The Engine Valve Analysis Is Losing Weight Due To Corrosion In The Engine Unit Mitsubishi Triton 2.5 cc: Corrosion Valve Intake. Jurnal Rekayasa Mesin Dan Inovasi Teknologi, 3(2), 221–226. Retrieved from http://jurnal.ftm.uniba-bpn.ac.id/index.php/REMIT/article/view/53