Analysis Of Utilization Of Cattle Waste As Biogas Fuel (Case Study: Cattle Farming At Teritip Village, Balikpapan, East Kalimantan)
Biogas Fuel
Keywords:
cattle waste, biogas, fuels
Abstract
Biogas technology is a technology used to process organic waste into a renewable energy source in the form of bio gas. Bio gas is produced by the process of overhauling and fermenting organic materials such as livestock manure by microorganisms in an airtight chamber (digester). The gas produced is mostly more than 50% in the form of methane. Biogas is suitable for use as an alternative energy to meet the needs of daily life such as cooking, lighting and others. The purpose of this study was to determine the potential of biogas energy in Teritip Village. The method used in this study is to enter cattle waste into the digester through the inlet tub. Next is the fermentation stage for 15 days in the digester. The biogas temperature can be clearly seen that there is a difference every day between 29-31.5℃. The total pressure for 15 days was 1.13 bar. To cook 5 liters of water using a biogas-fueled gas stove, you get 15 minutes and 20 seconds of time to cook the water until it boils.
References
K. Non Finansial Usaha Pemanfaatan Limbah Ternak Menjadi Biogas Akhnaniyanti and A. S. Halimah, "JU-ke (Jurnal Ketahanan Pangan)," vol. 4, no. 1, pp. 1–5, doi: 10.33474/JU-ke.
E Hambali, Teknologi Bioenergi. Agro Media Pustaka, 2007.
Adrianus Amheka and Nonce Farida Tuati, "Peranan Energi Alternatif Ramah Lingkungan Dengan Biogas Limbah Peternakan Sapi Di Wilayah Kupang NTT." 2018.
H. Widyatmoko, T. Yananto Jurusan Teknik Lingkungan, and F. Arsitektur Lansekap dan Teknologi Lingkungan, "Potensi Pembentukan Biogas Pada Proses Biodegradasi Campuran Sampah Organik Segar Dan Kotoran Sapi Dalam Batch Reaktor Anaerob."
S. Borahima and M. Lubis, "Pemanfaatan Kotoran Sapi Menjadi Biogas." vol. 12, p. 1, 2017.
F. Revina Widyastuti, "Potensi Biogas Melalui Pemanfaatan Limbah Padat Pada Peternakan Sapi Perah Bangka Botanical Garden Pangkalpinang."
M. Dianawati, D. Siti, L. Mulijanti, B. Pengkajian, T. Pertanian, and J. Barat, "Peluang pengembangan biogas di sentra .... (Meksy Dianawati dan Siti Lia Mulijanti) Opportunities of Biogas Development in Dairy Cattle Center Areas," 2013.
Harsono, "Aplikasi Biogas Sistem Jaringan Dari Kotoran Sapi Di Desa Bumijaya KEC, Anak Tuha Lampung Tengah."
S. S. W. & S. Suhut Simamora, Membuat Biogas Pengganti Bahan Bakar Minyak dan Gas dari Kotoran Ternak. Jakarta: PT AgroMedia Pustaka, 2006.
Khori Ex Indarto, "Produksi biogas limbah cair industri tapioka melalui peningkatan suhu dan penambahan urea pada perombakan anaerob".
Achmad Sholeh, "Analisis Komposisi Campuran Air Dengan Limbah Kotoran Sapi Dan Peletakan Digester Terhadap Tekanan Gas Yang Dihasilkan."
I Made Mara, "Analisis Penyerapan Gas Karbondioksida (CO2) Dengan Larutan NaOH Terhadap Kualitas Biogas Kotoran Sapi".
W. Rosyida Faza, C. Meidiana, I. Rini Dwi Ari Jurusan Perencanaan Wilayah dan Kota, K. Kunci, K. Sapi, and A. Distribusi Biogas, "Pemanfaatan Limbah Ternak Sapi Berdasarkan Alterantif Distribusi Potensi Biogas Desa Pudak Wetan, Kabupaten Ponorogo," 2013.
Sufyandi, "Pemberdayaan Masyarakat Melalui Pengembangan Teknologi Biogas Dengan Pemanfaatan Limbah Peternakan Sapi Sebagai Sumber Energi Alternatif Desa Gontoran".
P. Pengembangan Energi Baru Dan Energi et al., "Potensi Pengembangan Energi Baru Dan Energi Terbarukan Di Kota Semarang." [Online]. Available: http://riptek.semarangkota.go.id
T. Widodo, "Subarjo: Racang Bangun Prototipe Digester Biogas," 2019.
N. Karaman, "Pemanfaatan Kotoran Sapi sebagai Sumber Energi (Biogas) Rumah Tangga di Kabupaten Sampang Provinsi Jawa Timur." 2021.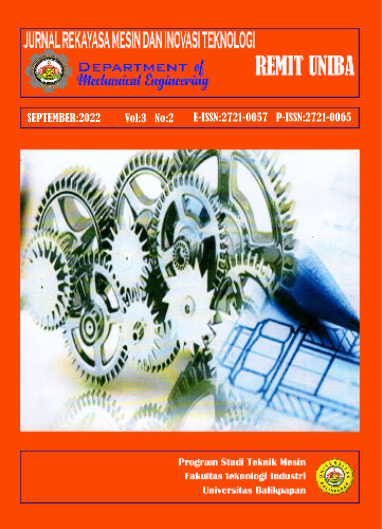 Downloads
How to Cite
Saputra, T. R., Gunawan, & Siska Ayu Kartika. (2022). Analysis Of Utilization Of Cattle Waste As Biogas Fuel (Case Study: Cattle Farming At Teritip Village, Balikpapan, East Kalimantan): Biogas Fuel. Jurnal Rekayasa Mesin Dan Inovasi Teknologi, 3(2), 227–230. Retrieved from http://jurnal.ftm.uniba-bpn.ac.id/index.php/REMIT/article/view/55